By topwinkeychain |
11
September 2023 |
0
Comments
Custom Commemorative Coins: Creating a Lasting Memory of Your Event
Have you ever wanted to remember a special event or honor someone for their accomplishments in a unique way? Custom commemorative coins are the perfect way to do just that. Commemorative coins have been used since Ancient Times as standing symbols of celebration and recognition, and now you can create your own custom collection that will serve as a lasting memory of any important occasion. Whether it's for an anniversary, wedding or retirement event, giving out personalized coins is an exquisite touch that won't be forgotten. Learn more about how to make your own custom commemorative coin set!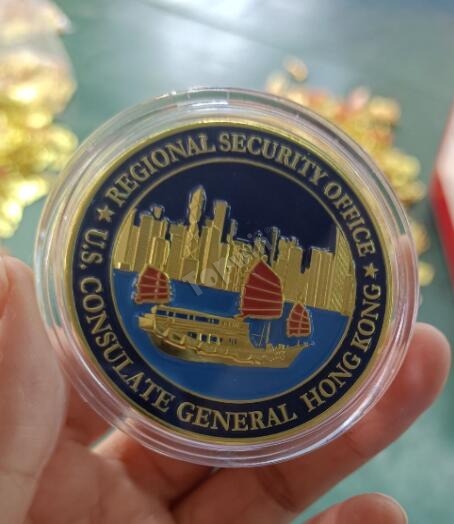 Why Custom Commemorative Coins are More Than Just Awards
Custom commemorative coins are more than just awards; they are tangible memories that commemorate a significant event or milestone. These coins hold a special value in the hearts of those who receive them. They are a physical representation of an accomplishment, a symbol of pride, and a reminder of the hard work and dedication that went into achieving a goal. Custom coins can celebrate anything from a noteworthy historical event to a personal achievement, making them versatile and unique keepsakes. These coins can even serve as a thoughtful and meaningful gift that can be passed down for generations. In short, custom commemorative coins are a beautiful way to capture and honor a special moment in time.
Capturing the Essence of Your Event Through Custom Coin Design
Hosting an event is no small feat. Whether it's a corporate conference, charity gala, or a personal celebration, capturing its essence and creating lasting memories is crucial. That's where custom coin designs come in. A unique and tangible way to commemorate an event, custom coins serve as a keepsake that attendees can cherish for years to come. These coins can be personalized to include event details such as the name, date, and location, or feature a memorable image or logo that captures the theme of the event. Whether it's a coin to honor top performers at a sales meeting or a commemorative token to mark a milestone birthday, custom coin designs are an excellent way to elevate any event and make it one for the books.
How to Incorporate Branding and Sponsor Logos into Custom Commemorative Coins
Custom commemorative coins are a great way to showcase your brand and show your appreciation to sponsors as well. Incorporating branding and sponsor logos into these coins can be a bit tricky but done right, it can make them even more special and memorable. One way to do this is to choose the right types of metals that would not only complement your branding but also make your logos and designs pop. The size and layout of the logos and designs are equally important as they should be visible enough to be noticed but should not overpower the entire coin. Consider working with experienced designers and engravers who can help bring your vision to life. With their expertise and your creativity, you can produce custom commemorative coins that everyone will love and cherish.


As you can see, custom commemorative coins are far more than just awards. When designed the right way, they have the potential to capture the essence of your event. Furthermore, with creative customization, you can include branding and sponsor logos to make this unique token of appreciation even more special. Looking for something special to reward someone for their accomplishments? Look no further than custom commemorative coins – these make some truly inspiring keepsakes that convey a powerful message of success! Start designing your own today, and get ready to create a one-of-a-kind memento that everyone will be proud to own!
Leave a Reply
Your email address will not be published.Required fields are marked. *