Personalized Heart Shape Leather Luggage Bag Tag Ideal Gifts for Clients, Friends and Staff
Luggage tags a

re essential accessories when you are on travel. Its primary function is to help you
identify your luggage in case of loss.Thanks to that luggage leather label, you will also be able to
shun those untidy tickets and tags of airline companies and travel with neat and elegant baggage.

There are various baggage tag shapes available includes rectangle, oval, round and heart shape,
in addition, the shape can be customized based on custom's design eg. airplane shape.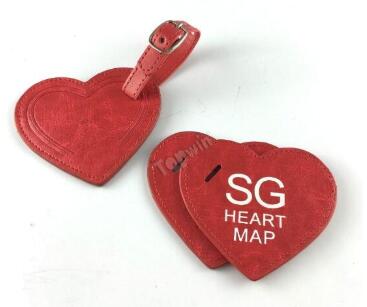 The unique heart shape travel bag bag is made with a leather body, buckled leather loop, and paper
ID card. Simply buckle it onto your luggage and you'll be sure to always keep track of your luggage
while on the move. The personalized logo by debossing, silkscreen printing or hot stamped makes it
a wonderful promotional item to show off your company logo, or an ideal gifts for friends or valued clients.