The Best Promo Tool for Plumbing Company - Custom Paper or PVC Printed Fridge Magnets
Magnets are a great way for small businesses or non-profit organizations to advertise their products, service or concepts.
Take the example of an plumber. Creating a water tap shaped magnets with plumbing
company logo and contact details
is a great way to remind people who you are in their hour of need.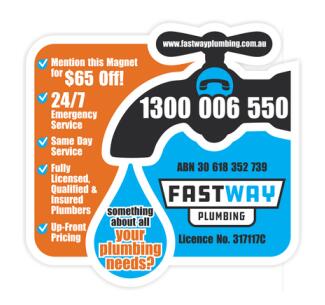 Custom refrigerator magnets makes en effective and low cost advertising tool for companies that are targeting the mass
market. The custom shaped and printed fridge magnets stay on the fridge all year round, which make it a long lasting
marketing collateral.
The printed refrigerator magnets are made from sturdy PVC and flexible rubber magnet. There are also other materials available
includes paper, art paper, glass, epoxy resin, soft PVC, etc. If you are not satisfied with ordinary round, square, oval, rectangle
shape, no need to worry. The printed fridge magnet can be made in almost any shape. And you will see some of our personalized
fridge magnet pictures below.
Besides the plumbing company, the cost effective fridge magnets are wonderful give away for other companies or organizations
like takeaway companies, tax services, garages, house renting, and non-profit organizations like environmental protection
organization, water-saving, garbage sorting, etc.