Switzerland High End Genuine Leather Key Chains Wholesale
This customized key chain is made of high quality genuine leather in black and light brown color. Customer's
company logo and name is embossed on both sides. The super quality genuine leather material, neat stitching,
clear embossing logo and smooth edging makes it a wonderful gift for your valued clients and high end promotional item.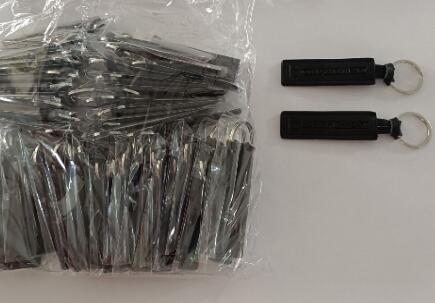 Besides the genuine leather metal key chain, we also produce other leather items includes personalized
mini tape measure, genuine leather business card and passport holder, leather luggage tags, etc.
If you are not sure about how your company logo will look like on those items or you have no idea about which
logo method ( printing, embossing, laser engraving, hot stamped in silver or gold, etc ) is suitable for the items,
please do not worry. We will offer quick and professional proposals to you based on our experience.